I love Rugby League. That is me in Kyogle High School XIII second from left front row.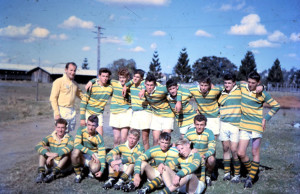 My dad hated soccer and called it sissy. He was right.  NSW Rugby League was huge when I was young and in my first job when 19, in Sydney went to Grand Final and watched St George win. It was a record crowd over 95,000, never equaled because of later safety changes.  In those days Sydney had the money and recruited the big tough country boys from Queensland.  Wally Lewis refused to go, playing for the Valleys in a lower regional league in Brisbane. The brain wave came up to have a "State of Origin" event 3 times a year where teams were fielded from where they originally played, New South Wales or Queensland. There was a lot of pent up resentment and in the first match the tension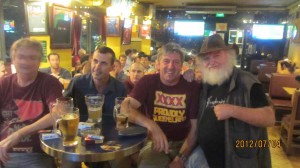 exploded as club team mates pounded each other when playing state Vs state. There was more passion than when we played the hated Poms.  
Now in Beijing I religiously watch the State of Origin series on 3 Wednesday afternoons May and June. Aussies I never see come out and are mates for a few hours.  Great atmosphere. Plenty of beer and tips for the barmaids.
But this year I have settled into serious research before I die. No beer and barmaids.  I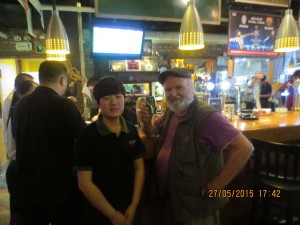 sounded out where they would have the game live and no one would know me. Seems Rugby League is badly marketed. I was so excited going I forgot my money and had to take taxi back and get money, taxi fare 119 yuan and late for start. The sports bars I had been told would have it were playing live world championship volleyball or ice hockey. I asked one place if they had "gan lan qiu" (Rugby League) and she asked is that a drink or a dish?   Shit! I went to a nice sports bar where I had phoned and asked and they said they would put it on if i came. I held them to it. It was full of customers (lazy rich Chinese 4 pm workday) and no one was watching the screens. They fiddled channels on one screen for me and after asking if billiards and water polo were "gan lan qiu" suddenly there was a sea of maroon and blue gurnseys. That's it! Stop, Thanks. 37th minute NSW 2:Qld 0. I dare not ask for sound cause i was the only fanatic watching it.  I loved the game, rocking with every tackle. No one bothered me, pushed me to drink beer. I had two sodas and the game ended and I went home chuffed up and exhilarated with the fantastic plays and we won 32:8.  At home I checked the website. Final score was 11:10. We won but I had been shown 2014 game III. Bloody hell! Was the bartender just ignorant or deliberately deceitful? Feeling cheated but still happy to have watched a good game (dont remember last years!) and that we did win live in 2015.